Hospitality Marketing
Powered By Data
Uncover what drives your guests and shift the trajectory of your business.
Expert lifestyle and behavioral data segmenting that increases the power of your marketing.
We Keep Good Company
We are a hand-picked team of data gurus, programmers
marketing strategists, designers and storytellers.
Creative With Impact
Bring Your Vision To Life.
Over 30 Years of Lasting Partnerships
We're Hospitality Marketing Associates (HMA). We customize your strategies, grow your revenue and increase your ROI. Every step of the way, we work with you to uncover opportunities and leverage your data in new ways.
Our Approach, Your Success
We bring Big Data analytics closer to your team so you can work smarter, not harder. Insight from Big Data empowers your team to connect with your guests in relevant ways, resulting in increased loyalty and a deeper brand connection.
When you partner with HMA, you partner with a team of industry experts whose approach to CRM is personal, not automated. HMA brings expert data management and proven marketing processes to every client partnership – and a team that is not afraid to be flexible and creative to achieve success.
Sustain your marketing efforts in a highly mobile industry. HMA provides strategy, data analytics and marketing support services that stabilize your CRM platform for long term success.
Introducing eSuite 2.0
Bringing Big Data, Email & Marketing Metrics Closer To You
Downloadable Marketing Calendars
Data Collection Statistics
Report Center & Monthly Performance Graphs
Faster, Intuitive Navigation
Real Time Dashboard Features Up to the Minute Campaign Results
LEARN MORE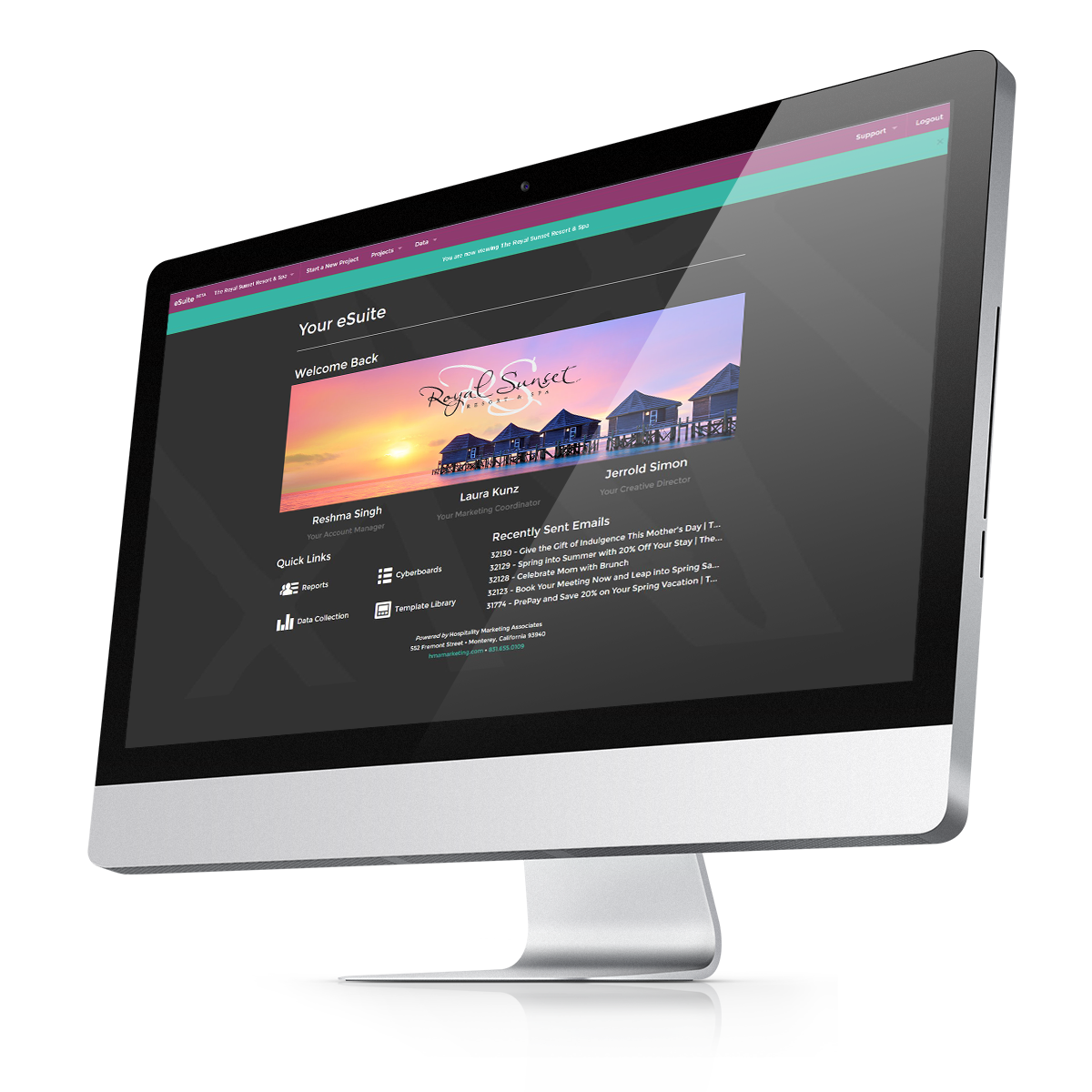 HMA ensures that you have a definitive understanding of who your desired guest is, and provides the resources to reach them and measure your performance.

John Davies

Vice President of Marketing at Benchmark Hospitality
The culture of the organization and their commitment to our partnership is unprecedented in my 30+ years in the industry. The organization (HMA) is based in innovation and service. We evaluate our partners frequently and HMA rises to the top in all performance indicators.

Ted Davis

Chief Sales & Marketing Officer at Benchmark Hospitality
The HMA Team continues to be a dynamic partner in our electronic media success

Bert Fowles

Vice President of Marketing at IGY Marinas
Excuse Us While We Name Drop…